Michael Tobin
Biography
Michael Tobin, is a fresh author. He loves spending hours and hours, hoping to make the story just write. I mean, just right. But without a professional editor, there are bound to be errors. Hopefully, none too egregious. He enjoys a quiet life on a lazy watercourse called the Grand River. After four-years in the U.S. Navy as a radioman, and thirty-years as an aircraft maintenance technician (25 of which were spent at American Eagle Airlines). He has put down the torque wrench, and picked up the keyboard.
When not writing, he enjoys long walks along the lazy river flowing through his back yard. Just soaking up Mother Nature, and all she graciously offers. Hiking the path along this peaceful river is transcendental, allowing an emptying of extraneous garbage from the mind, and focusing on what to write next. He can often be found sitting on his deck, overlooking the river, tossing peanuts to the many river squirrels frolicking in the woods. Most of the time, simply daydreaming about what to write next. I hope you like his stories, as much as he enjoyed relating them! Please feel free to email a word or two, or possibly even, write a review. That is, if you feel so inclined. Peace out! michael_tobin411@yahoo.com
Books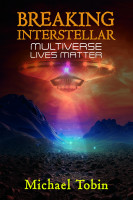 Breaking Interstellar: Multiverse Lives Matter
by

Michael Tobin
(5.00 from 1 review)
The cosmic story continues! Join the inter-dimensional excitement, as androids Nyla and Wil, experience space-time adventures with their dirty-dozen of human children (albeit a bakers dozen) and new friends from beyond our universe! From black hole singularities rampaging through space, to gutted planets and more! Join the adventure and expand your mind!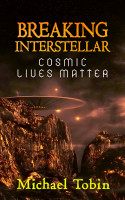 Breaking Interstellar: Cosmic Lives Matter
by

Michael Tobin
(5.00 from 1 review)
Join an adventure through time and space! Go with androids, humans and their alien friends, to find adventure and companionship in the cosmic realms of the imagination. There's more to deep-space than meets the eye! So, come along with the interstellar gang of misfits, as they explore their worlds, and the universe around them.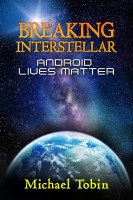 Breaking Interstellar: Android Lives Matter
by

Michael Tobin
(5.00 from 1 review)
Humanity has ruined Earth's biosphere as a byproduct of extravagant living! Soon Mother Nature will not be able to support us in the fashion we require for basic existence. We need new worlds; and we need them soon! Only intelligent machines can survive the long years to reach them, and still be able to function as parents. Join an adventure to the stars, where humanity is meant to exist!
Michael Tobin's tag cloud