Bill Strait
Biography
Aviator, adventurer, and author Bill Strait spent 35 years traveling the world and studying every aspect of water. This global water expert has circumnavigated the globe and crossed oceans over 200 times. Bill's unique and often humorous perspective finds its way to his treatise on the subject of drinking water in the USA, presented here in WATER ROULETTE. Bill is from New Orleans and lives with his wife Anna, Son Perry and Daughter Brittany in Jupiter, Florida.
Books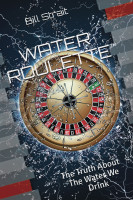 Water Roulette The Truth About The Water We Drink
by

Bill Strait
What is really in that bottle or glass of water we drink several times a day? We play water roulette on every H20 indulgence.Water is streaming into the forefront of our collective consciousness. Is bottled water really better? Is it really tap water? What's lurking in that fountain? Is our municipal water system adding chemicals that may not be good for us? Water Roulette™ has the answers.
Bill Strait's tag cloud