Wayne Goodin
Biography
Wayne is a retired dentist and lives with his wife in Republic MO. He has done mostly technical writing during his professional career concerning dental and hospital staff training, but now finally has the time and freedom to write more fiction. The Epiphany Crystals is his first novel, he hopes to follow with some short stories and perhaps a sequel.
Books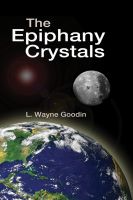 The Epiphany Crystals
by

Wayne Goodin
(5.00 from 3 reviews)
This compelling and richly told story of the near future tells of the quest of Max and Susan as they try to head off a nuclear war with the help of the all knowing Topek Crystals. Their plan is thwarted and as a result, they are thrust into an epic adventure with the Topeks. This book is the winner of the best book length fiction for 2011 awarded by the Heartland Writers Guild.
Wayne Goodin's tag cloud