Brian Weir
Biography
Brian Christian Weir was born in New Orleans, Louisiana. Mr.Weir now lives in Dallas, Texas. Mr. Weir graduated Alfred E. Bonnabel High School in Metairie, LA in 1987. He graduated from Delta Junior College with a diploma in Computer Programming.

His hobbies are creative writing, freehand drawing, cycling, and softball. Although the concept of Xybears was developed in 1987 in his senior year in high school, his online novel "Xybears Wanted: Justice" is his first commercial writing venture.

Mr. Weir is a self-confessed child of the 80's who still retains affection for the relatively wholesome, somewhat campy, family-friendly entertainment representative of the era. It is in that same spirit that Mr. Weir fashions the look and feel, persona, and character of the Xybears universe.
Where to find Brian Weir online
Books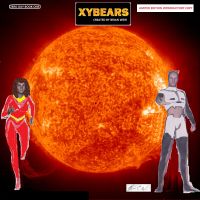 Xybears Stare Into Darkness
By
Brian Weir
Price:
$5.99 USD.
Words: 87,730. Language: English. Published: March 25, 2014. Category: Fiction
What if you possessed nearly limitless power, and your own government wanted you dead because of it?