Cripple-Mode: Novels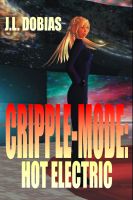 Cripple-Mode: Hot Electric
Travis, an accused terrorist clone, comes out of a coma suffering a fugue amnesia state mirroring a different life: her father's. Her family is notorious and she's inherited their problems. Stuck in deep space among enemies and strange entities shifting her through JumpSpace; she must learn who she is and why she was created. She wants a normal life, but that won't happen without a fight.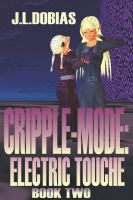 Cripple-Mode: Electric Touche (Book Two)
Travis, a suspected clone terrorist recovering from a coma and fugue amnesia state, inherits her notorious family's troubles. Infested with JumpSpace Entity parasites and mankind's technologies she's pressed into service of the universes four leading agencies. She's unclear what they want, but it sounds like murder. When pirates attempt to kidnap her she fights to take her life back from everyone.