Christopher Forrest
Biography
Christpher Forrest lives in New York City with his wife and six children. He was a one-time student of mathematics. He has worked every menial job you could imagine, including security, before becoming an EMT. After, he earned his Commercial Driver's License and worked as a trucker. He is a hobbyist cryptologist, redditor, slacker(Slackware Linux) and contributes to SlackBuilds.org(a site for 3rd party Slackware packages.) Occasionally, he'll even play music(country, of course). He is a native of Arkansas.
Where to find Christopher Forrest online
Books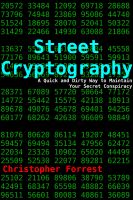 Street Cryptography
(4.00)
A quick and easy to use guide on creating your own cipher. This book covers several historic ciphers and builds concepts that will allow you to make one that is reasonably secure.
Christopher Forrest's favorite authors on Smashwords