E.A. Cannoli
Biography
EA Cannoli has been writing for as long as he can remember. He published several things when he was younger and even worked as a college writing professor. When Georgie Mousini approached him and asked him to tell his story to humans he was naturally honored. Mr. Cannoli currently lives in Chicago where the animal art scene still rages strongly.
Books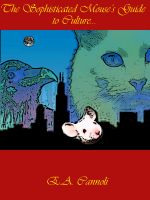 The Sophisticated Mouse's Guide to Culture
by

E.A. Cannoli
Ever had a dream you had to follow? Georgie Mousini does. Fed up with managing a dumpster for a living in Chicago's Little Italy he chucks everything he knows to go after that dream.
E.A. Cannoli's tag cloud