Elisabeth Sowerbutts
Biography
I've been traveling since I was seven. My mother was ill and I was packed off to a holiday in Ireland – from our home in Scotland at the time – I don't remember the holiday – but I do remember the excitement of catching my first flight – unaccompanied! I must admit over the years the romance and excitement of planes has worn off a bit but I still get excited showing up at the airport at the start of a new adventure.

I've been to every continent except Antarctica – and that's on the list. I've traveled solo and with friends. I've traveled with a partner. I've stayed in flea-pit hostels and luxury hotels. I've used travel agents and booked my own trips. I have bought almost every major travel guide on the planet and used most of them.

Travel is my passion – but it has never been my career. Though I became a geologist at least partly because I was hoping to get a trip to the Antarctica research station my School had access to - didn't quite work out though (couldn't be bothered with the PhD). Geology took me to some remote corners of Papua New Guinea and Australia – and yes there is a very good reason that some places are "off the beaten track" – not all of which are good. Retraining I deliberately chose a field which was in high demand so a) I would earn good money to fund my travel habit and b) would be easily enough be able to get another job if an employer didn't understand my requirement for 2-month holidays. Computing did fulfill its side of the bargain but in the end the boredom of doing something that I grew to hate was too much.

These days I work in the back bedroom, in New Zealand's capital city, Wellington, with easy access to the airport and the world. I work in my pajamas when I feel like it. I'm a writer, developer and promoter of websites about various topics – but travel is still my passion – and that's why I developed my Lis's Travel Tips eBook series.
Where to find Elisabeth Sowerbutts online
Books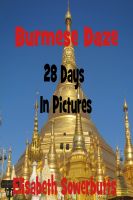 Burmese Daze: Myanmar in 28 Photos - Highlights Of Myanmar/Burma From A Tourist's Eye
(4.50)
Considering a trip to Burma (Myanmar) - or just curious about this exotic and long-closed country? Or maybe you'd like to take a step back in time to a country where ox carts are still a normal form of transport? Be inspired by these highlights of Burma, focussing not on the pretty postcard views but pictures of real people and real life. Each photo is accompanied by short description.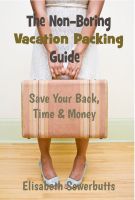 The Non-Boring Vacation Packing Guide: Save Your Back, Time and Money
(5.00)
Looking for a good vacation packing list? Well if you want to read hundreds and hundreds of pages about what to pack for your honeymoon,or how to packing for a vacation in Florida, this is NOT the book for you. If, however, you want to learn a simple way to make sure you know exactly what to pack for any vacation, guaranteed to work for you and written by someone with 30 years' experience ...