Robert Porter
Biography
Rob is a physician who left clinical practice for less stressful work after many years as an ER doctor. He lives in the Philadelphia area with his wife, older son and four cats. In addition to indulging his inner philosopher with the publication of The Answer is Never Magic, Rob is active in progressive politics—read his leftist, liberal contributions to the national debate at http://cfdemsblog.com.
Where to find Robert Porter online
Books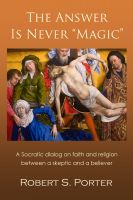 The Answer is Never "Magic"
By
Robert Porter
Price:
$2.99 USD.
Words: 39,360. Language: English. Published: September 2, 2012. Category: Nonfiction
Rob Porter conducts both sides of a Socratic dialog on faith and religion between a skeptic and a believer.
Robert Porter's tag cloud