Brian Gore
Biography
Born in Ohio, and moved to Arizona as a young boy, B.K. Gore found at a young age on that Sonoran Desert, that along with the long views of Far Country, he had a love for story telling. That creates a problem for a young fella though. The trouble with youth, for a writer, is a shortage of experience. Life experience being the raw materials which a writer needs to build his stories, it makes writing a tougher go for the young.

As a teenager, his first love was horses and cowboyin'; with no way to make a living, telling stories, having occurred to him anyway.

The years took him from wrangling and cowboying as a teenager, through two hitches in the U.S. Army; from which he was evicted after he got busted up and the army claimed he was too stove up to soldier any more. So, he went back to cowboyin' for a good number of years, 'cause he was too dumb to do anything else!

Mixed in there, before, in between and after the army, was a stint in the copper mines of Arizona, the oil fields in New Mexico, more ranches and farms, and even a few runs at carpet cleaning, selling hardware, driving truck and producing custom leather goods. Whatever it took to pay the bills.

In between the town jobs, were the ranches, farms and bull studs, where the horses, cows and mules, always pulled him back.

All along the way, unrealized at the time, he was amassing a stock of experience from which to carve new stories, and honing his skills at spinning those tales.

It wasn't until he crossed over onto the shady side of the mountain, that he recognized that people seemed to actually enjoy his stories, and and at the same time, stumbled upon the vehicle he could use to present his tales to the public.

So now, he spends his time, building his tales of Honor, Betrayal, and Lonely Courage, wherever he sets his boondock camps.

He is a, Vagabond, story telling, cowboy biker, living on the road, and banging around the west he loves.
Books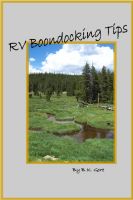 RV Boondocking Tips
(4.67)
This is a collection of all the tips I've seen, used and heard of in twenty plus years of running the rubber off of various RV's... at least all the ones I could remember. I tried to arrange 'em in a way I thought you' find usable, but then, An RVin' Cowboy Biker may juuust think a mite different than you at times! 12 chapters of tips with sections on, water, electrical,driving, pets & more.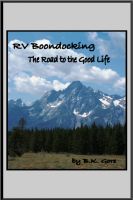 RV Boondocking - The Road to the Good Life
(3.00)
RV boondocking, the complete story... 19 chapters from my rv boondocking philosophy and finding good camps to work kamping and an rvers dictionary. I may not have all the answers but I have a few... and maybe some advice you can use to help find the ones I don't have! Not a big book... but a big little book! I believe it'll start you down the right road to finding shining times on the rv road!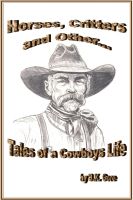 Horses, Critters, and Other Tales of a Cowboy's life
(4.00)
These are the stories of my life... That the statute of limitations have run out on anyway! A number of short stories detailing a few of my 'finer' moments... and a couple... uh... less than fine.! I hope reading them will provide you as much enjoyment as dusting off the memories and putting them down on paper has brought me. I Vow! These are all true... with little need for embellishment!
Brian Gore's favorite authors on Smashwords