Mona M. Hanna
Biography
Mona M. Hanna is the author of the books The Nature of God and God's Promises of Love. She has been a devotional writer since 2008, creating the blog Mona Hanna Devotions, focusing on expressing God's love, acceptance, and compassion. She has a Bachelor of Arts degree from the University of South Australia, with a sub major in professional writing. She has worked in the private and public sectors, and is now committed to communicating the lessons she learns from her personal walk with Christ.
Where to find Mona M. Hanna online
Where to buy in print
Books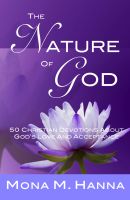 The Nature of God: 50 Christian Devotions about God's Love and Acceptance (God's Love Book 1)
The Nature of God contains 50 Christian devotions, focusing on God's true love and acceptance of us. The devotions portray God's kindness, sweetness, grace, mercy and forgiveness. These devotions break down the notion that God judges us, and has strict requirements for how we should think, feel and behave. Immerse yourself in heart-warming declarations of God's love.