Sally Olson
Biography
Sally Sapp Olson, is an alumna of Winthrop University (B.A. Zoology) and Duke University (M.A. Zoology. She is retired from teaching biology at Winthrop University.

Sally is a long time resident of Rock Hill, SC where she and husband, John, raised their three children.

Their son, John B. Olson, is an award winning novelist.
Where to find Sally Olson online
Books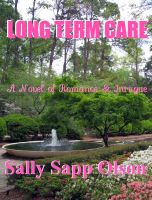 Long Term Care
Romance - Intrigue - Sociological Details of Both Major Southern Cultures In 2010 estate taxes are to be eliminated. This means that an estate valued at eighteen and a half million dollars will be worth seven million dollars more if the holder dies in 2010 than if he died in 2009. In many books seven million dollars is enough to kill for. In this story it's enough to make a dead person live.