Susan Flowers
Biography
Susan Flowers is a retired nurse from Cape Cod, a mom, grandmother and great-grandmother of 62 who believes in the possibility of living a full life past 100, and has embarked on a new career path by becoming a personal trainer to "baby boomers", and a specialist in the field of nutrition, yoga and meditation.
Books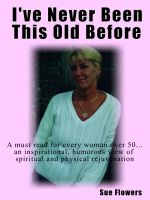 I've Never Been This Old Before
By
Susan Flowers
You set the price! Words: 9,600. Language: English. Published: November 17, 2012. Category: Nonfiction
I've Never Been This Old Before is the story of how a small child's innocent honesty became a powerful catalyst for her grandmother's desire to lose weight, get in shape, and rediscover the joy of living once again.
Susan Flowers's tag cloud