Elga Antonsen
Biography
Daughter of the only open Communists in Staten Island during the McCarthy era, Erdine, a school teacher and literacy advocate and Zeke, a carpenter, mad scientist and philosopher, Elga Antonsen started out life with the unique perspectives and challenges grown from that time. Originally planning to become a veterinarian or a scientist, Antonsen instead managed to raise three children, while working on her writing. Her published work includes Daring to Dream, New Era Publishers, New York, 1977.

Residing in Kingston, New York, she is co-owner of Brillig's Books, an antiquarian online bookstore with her husband, Bill, and has served in AVP, the Alternatives to Violence program. With several works of fiction on the burner, she and her sister are presently collaborating on a novel about their childhood as the daughters of Communists. She is also working on a novel based on her experience as a mother to abused children and the former wife of their abuser. When she's not writing, Elga spends her time drumming, gardening, and advocating for environmental as well as womens' and childrens' issues. She also helps edit for the huge horde of Cathers-related authors in her family.
Books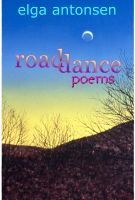 Road Dance: Poems
(5.00)
Stories of sacrifice and honor, strength and passion, healing and laughter. Collected from journals and memories that began in McCarthy-era NYC, they follow a crazy carnival journey of raising children, the search for love, self-understanding, and the desire to leave a better planet behind. The tales are evocative and sometimes startling, balancing a high wire between fear and redemption.
Smashwords book reviews by Elga Antonsen