Ntokozo Mandlendoda Allen Ross Nzuza
Biography
Mina Ntokozo Mandlendoda Allen Ross Nzuza ngazalwa isithole sakwaMdladla esasiwumdwebi nombazi wezithombe . Sathathwa insizwa uVincent M. Nzuza owabe eligcokama lensizwa nelasifundisa ukwazisa abantu nokunaka esikwenzayo. Ukufunda bakufaka kimi bobabili nokwaholela ekubeni nginamathele kukho ngoba bathi isona sikhiye sekusasa lami. Ngikhulele kwaNongoma ngafunda ezikoleni ezilandelayo- Nyuswa Primary School, Ubambiswano High School ne Sunnydale High School. Imfundo yobuthishela ngayenza Eshowe Training College ngase ngidlela ekufundiseni ngaze ngaba uThishomkhulu. Ngedlula ngafunda ngaba neziqu zesiZulu ngokulandela yonke imigudu yakhona ngaze ngazuza nezobuDokotela. Njengamanje ngifundisa isiZulu eMnyangweni wesiZulu naMasiko oNgoye.
Smashwords Interview
Videos
More about Ntokozo Nzuza
About what inspires me to write, and my writing
Books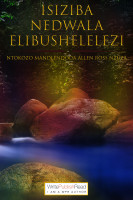 Isiziba Nedwala Elibushelelezi
by

Ntokozo Mandlendoda Allen Ross Nzuza
"Isiziba Nedwala Elibushelelezi" wumdlalo olanda kabanzi ngokuthi iNkosi yesizwe samaZulu uDingane yambulala kanjani umfowabo uMhlangana ukuze ithole isihlalo sobukhosi. Kubalulekile ukuba umlando wesizwe udluliselwe ezizukulwaneni ngezizukulwane. Lo mdlalo uthinta izigameko ababhali abaningi abangazinakanga kanye nabantu ababa neqhaza ekubumbeni umlando wesizwe.
Ntokozo Mandlendoda Allen Ross Nzuza's tag cloud