Ava D. Dohn
Biography
About the author

It is a customary thing to write a short soliloquy of rhapsodic prose regarding an author of words who has put pen to paper and written down by a hand not self-made and from a brain not understood, a tale of suspense or intrigue that the reader finds titillating to his or her senses. Credit is then taken by the author for the seemingly random charges of chemical and electrical energy that make those thought processes possible and that have then been woven into a tapestry of verbal music that plays upon the hearts and minds of those who open their eyes to see into the world of the author's mind.

Ava is no such author. "Take the tools you have been given and share your works with the world of men." This is a motto of one who writes from the heart, one wishing to share the emotion felt, to give the reader pause to see beyond the ordinary into a world that may or may not exist in reality, but most certainly does in the heart and soul of any and all who believe there exists something greater than the frail human body. To dream and help others dream of a world beyond their own, to share the life and love of those who might possibly reside there, to help them see that they do not journey upon the secluded path alone...that is the goal of this author.
Books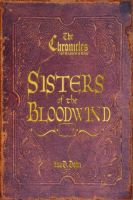 The Chronicles of Heaven's War: Sisters of the Bloodwind
by

Ava D. Dohn
(5.00)
Where to begin a tale filled with closely guarded secrets of demons, gods and men that has for the Ages been hidden from all searching eyes… This our Quest…a long and twisting road to Destiny drawing us into the past, then flinging us into an uncertain future, opening a door to a mystical world… Dare you take this dangerous journey of discovery to uncover the truth of all matters...?
Ava D. Dohn's tag cloud