James Blish
Biography
James Blish (1921-1975) was one of the "Futurians" along with Asimov et al., is best known for his books Cities in Flight, A Case of Conscience, the Star Trek novelizations, and as a sharp-tongued critic who applied the tools of literary criticism to science fiction. He co-founded the Milford science fiction writers' workshop, and wrote science fiction criticism under the name William Atheling, Jr.
Where to find James Blish online
Books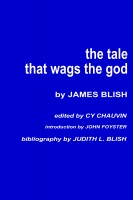 The Tale that Wags the God
by

James Blish
This is a posthumous collection of Blish essays, mostly on science fiction and fantasy. These include studies of Poul Anderson, James Branch Cabell, and the application of Spengler to science fiction. Other pieces range from "Music of the Absurd" (modern music—more fantastic than any fiction ) to the autobiographical "A Science Fiction Coming of Age".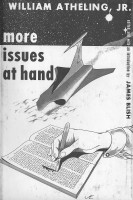 More Issues at Hand
by

James Blish
James Blish, in his incarnation as "William Atheling, Jr.," has written more than his share of the most incisive criticism of contemporary science fiction. In 1964 Advent brought out The Issue at Hand, a collection of Atheling's critical essays on stories in the science-fiction magazines.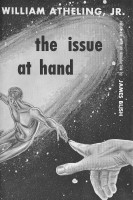 The Issue at Hand
by

James Blish
For many years, hiding under a cloak of anonymity, the most penetrating critic of the field of magazine science fiction was known as "William Atheling, Jr." It soon became a challenge to guess his real identity. And that was no easy game, for Atheling's dissection did not spare even his other ego, the noted science-fiction writer James Blish.
James Blish's tag cloud