Craig Marley
Biography
ABOUT THE AUTHOR

Craig is a former Navy SEAL, Vietnam veteran and a pioneer in the deep sea diving industry. His first novel, No Lifeguard on Duty, chronicles his life as a Navy SEAL, his worldwide commercial diving expeditions and his struggle to find a harmonious balance between the woman he loves and seductive globetrotting adventures. HIs latest project is a work of fiction - a series of four novellas based in part on his own experiences with bottlenose dolphins and inspired by ongoing interspecies linguistic research by the US Navy and DARPA (Defense Advanced Research Projects Agency).

COMMING SOON:
Navy SEAL TALKING DOLPHINS - EMANCIPATION
Navy SEAL TALKING DOLPHINS - RUSSIAN ROULETTE
Navy SEAL TALKING DOLPHINS - DEEPWATER GOLD
NO LIFEGUARD ON DUTY - Legacy of a Navy SEAL
..
Books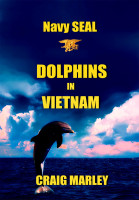 Navy SEAL DOLPHINS IN VIETNAM
by

Craig Marley
When a Chicago drug dealer gets involved in the heroin distribution business during the Vietnam War, he soon discovers he's no match for Commander (SEAL) Steve Mason and his SEAL dolphins. Using musical instructions and graphics, his SEAL dolphins must disable the cartel vessel and prevent 200 kilos of heroin from reaching American soldiers.
Craig Marley's tag cloud