Tamara Jones
Biography
Tamara Jones has been an ESL instructor for 17 years. She has taught in Russia, Korea, England, the USA, and Belgium, where she is currently an instructor at the British School of Brussels. Tamara holds a Ph.D. in Education from the University of Sheffield in the UK. She is the co-author of "Q Listening and Speaking Level 4," Oxford University Press.
Books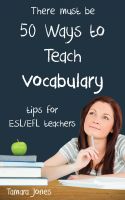 Fifty Ways to Teach Vocabulary: Tips for ESL/EFL Teachers
ESL/EFL learners need to know a great many words to read, write, listen, or speak with ease. Students learn the most easily when they are interested and having fun. Games and activities that engage students, whether they are adults or children, will help them create stronger memories and store these memories for longer. This book provides 50 tips to help students learn and remember vocabulary.
Tamara Jones's tag cloud