Book Smugglers Publishing
Publisher info
Like many foolhardy ideas, The Book Smugglers was born of a time of great adversity. Faced with threats from their significant others concerning the overwhelming volume of books purchased on a daily basis, Ana Grilo and Thea James resorted to "smuggling" books home in huge handbags to avoid scrutiny. In 2008, the devious duo founded The Book Smugglers - a review blog dedicated to speculative and genre fiction for all ages, and an outlet for Ana and Thea's bottomless obsession with books and assorted SFF popgeekery. In 2014, they launched Book Smugglers Publishing, an electronic publisher of SFF short stories for all ages with a focus on diverse voices and perspectives. Book Smugglers Publishing will release 6 short stories in 2014.
Where to find Book Smugglers Publishing online
Books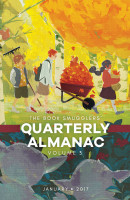 The Book Smugglers' Quarterly Almanac: Volume 3
by

Book Smugglers Publishing
A quarterly collection of awesome, selected and edited by The Book Smugglers Collecting original short fiction, essays, reviews, and reprints from diverse and powerful voices in speculative fiction, THE BOOK SMUGGLERS' QUARTERLY ALMANAC is essential for any SFF fan.
Book Smugglers Publishing's tag cloud