Robert D. Coleman
Biography
Hi, my name is Robert Coleman. I was born in Waxahachie Texas and spent the first 10 years of my life there. My family then moved to Irving Texas. Where I graduated from MacArthur High School. I have been blessed with two amazing sons that I am very proud of. I have also been blessed with two grandsons that I love dearly. For the last 25 years, I have lived in Groesbeck Texas. That area has become the center of my fictional book. I was always blessed with a great imagination. My teachers said I was a daydreamer in class. I could always come up with great stories in my head. My problem was always getting it on paper. I sometimes struggle with the English language. (I suspect I am dyslexia) I was always too embarrassed to show anybody my work. until I met a wonderful woman. Who also happens to be a writing teacher. I reluctantly showed her one of my books. She read them and told me that the story was the hard part. Spelling and Grammer could be fixed. With her encouragement, I started reworking some of my stories and making new ones. Now 20 years after I put my first story on paper and almost 4 years after I started the rewrites. I have Murder and the Cold Case. I am very proud of it! I have another one almost ready and first drafts on 7 more and several ideas for more. So I hope this is the first of many. So thank you, Laura. Without your help and encouragement, this could have never happened.
Smashwords Interview
Books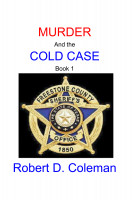 Murder and the Cold Case, Book One
by

Robert D. Coleman
Limestone County Sheriff John Carter investigates a twenty-year-old murder first investigated by his grandfather. Memories are long in small-town Texas. Carter solves a crime but the mysteries surrounding his family may prove to be more than a grandson bargain for.
Robert D. Coleman's tag cloud