Anne M. "Nancy" Wheeler
Anne Marie "Nancy" Wheeler, JD, is an attorney licensed in Maryland and the District of Columbia. For over 30 years, she has provided risk management consultation services for a major national medical specialty association and a national association of mental health providers. On a daily basis, she helps practicing psychiatrists, counselors, allied health professionals and other providers navigate challenging legal, ethical and regulatory issues ranging from privacy to managed care.

Nancy is also an affiliate faculty member of the Graduate Pastoral Counseling Program of Loyola University Maryland, where she teaches ethics and legal issues courses to masters and doctoral-level students. Additionally, she has presented hundreds of seminars, workshops and keynote addresses nationwide on medical and mental health legal and ethical issues, including closing a professional practice. She has produced newsletters, CDs, video-based programs and podcasts on legal compliance and risk management strategies. Nancy is the co-author of The Counselor and the Law: A Guide to Legal and Ethical Practice (Alexandria, VA: American Counseling Association, 2007, 2012 and 2015) and a contributing author to numerous publications, including "Top Ten Legal and Risk Management Areas of Concern for Psychiatrists," in Entering Private Practice: A Handbook For Psychiatrists (ed. J. Lazarus) (American Psychiatric Publishing Inc., 2005).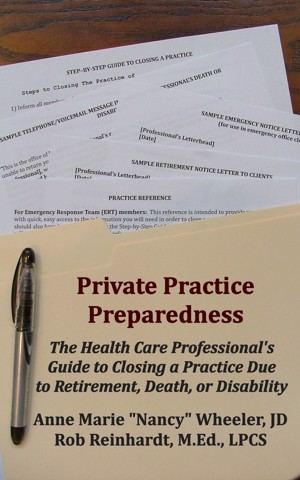 Private Practice Preparedness - The Health Care Professional's Guide to Closing a Practice Due to Retirement, Death, or Disability
by

Rob Reinhardt, LPCS, M.Ed., NCC

&

Anne M. "Nancy" Wheeler
(5.00 from 2 reviews)
Private Practice Preparedness provides the tools for healthcare professionals to fulfill their ethical obligations regarding continuance of care in the case of emergency or retirement. Its unique Step-By-Step Guide to closing a practice allows appointed representatives to efficiently take over a practice in an emergency. Registration of your purchase allows you to download all included templates.