Sherry H. Dec
Biography
I am a Maine girl who grew up, went to school, worked, married, raised a son and have now retired into writing and painting all in this same amazing state. Generations before me, Edmund Littlefield settled Wells in the early 1600s, so my roots are deep.
I started writing this book several decades ago. I wrote it, put it away, started it up again to then let it shimmer awhile. In this phase of my life, I've launched it into the world. I'm pleased that you have found it.
I believe that we all have a story somewhere inside us and if we listen hard, it will begin to sing.
Have fun as mine kicks around in your brain and when you are ready, let me know what you think.
Where to find Sherry H. Dec online
Books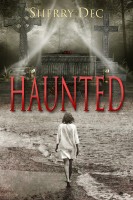 Haunted
(5.00)
A psychic, thirteen year old is thrown back a hundred years into another lifetime. She must solve a mystery by unlocking her own powers. Read this book!