Rob Durham
Publisher info
Rob Durham graduated from The Ohio State University in 2000 with an English Degree in one hand and a microphone in the other. From there Rob has built an act that he prides on originality and his unique point of view. He has been praised by many of the business's big names whom he has worked with. From Bob Saget calling him "Freaking Hilarious" to Louie Anderson's written claim of "Very Funny!" (Rob still has the cocktail napkin as proof), his material is respected by all who hear it. With a smile that says I didn't get my braces off until I was 27, Rob's innocent look helps him vent about his other career as an English teacher, his horrible dating history, his wonderfully spunky wife, and other near death experiences.
Where to find Rob Durham online
Books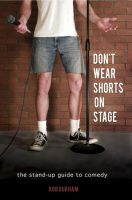 Don't Wear Shorts on Stage...The Stand-up Guide to Comedy
The previously unwritten rules of stand-up comedy are now explained for anyone wanting to make money in the business. It also gives comedy fans an inside look on what the lifestyle is really like.
Rob Durham's tag cloud