Charna Ainsworth
Biography
Charna Michelle Ainsworth was born in Lumberton, Mississippi, on August 30, 1967, the second daughter of Charles Lee Burkhalter (b. July 1945) and Barbara Faye (Herrin) Burkhalter (b. July 1948). Her only sibling is Charlotte Faye Henley (b. May 1964). As a child, she lived in Dallas, Miami, and New Orleans, finally settling in Hattiesburg, Mississippi, at the age of eight. Her father is retired and her mother is a nurse. She lived in Hattiesburg through high school and chose to travel in lieu of attending college.
After traveling for over two years living in places such as Pensacola Beach, Florida, Cheyenne, Wyoming, and Los Angeles, Calfornia, she moved back to her home state of Mississippi. She then began to attend college, majoring in Accounting.
She and her first husband William (b. March 1965 d. Oct. 2010), met through mutual friends and were married in July 1993. While living in Hattiesburg, she wrote many award winning poems and began to write short stories. She worked a variety of jobs over the next several years including insurance sales, retail sales, and started her own skin care business.
After the death of her first son, Andrew (d. 1997), she became a homemaker and began to explore different genres of writing. She continued her first love, poetry and began writing longer stories and screenplays. She wrote the first of her three novels, The Letter in 1999, over a period of six weeks. Within a year, she had a literary agent and her work was presented to major publishers, though it wasn't published.
She remarried in 2003 and her first daughter, Maria, was born in May 2004. During this time she wrote two collections of poetry and one children's book. After her daughter began attending second grade, she reread The Letter and knew it was time to have it published. Pushing aside all normal paths of publishing, she chose to self-publish through the median of e-books.
Her ancestry is German and American Indian. She is an avid reader, usually reading 2 to 4 books at one time. She attends church regularly with her young daughter, Maria. She contributes to a variety of local chairities in her community.
Charna Ainsworth lives in Mississippi with her daughter.
Books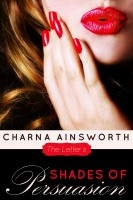 Shades of Persuasion
Set between the glamorous lights of Hollywood, California and the rustic charm of Natchez, Mississippi, Shades of Persuasion begins exactly where The Letter ended. Steven Cross and Tiffany Crenshaw reignite the flame they shared as teenagers. However, as adults with very demanding careers, they face new challenges.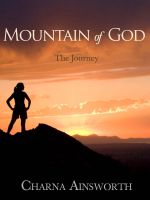 Mountain of God
The journey gets underway when Shelly becomes a young woman and leaves her family home. Thus begins this thought provoking tale of her discovery of Christ and the ensuing Christian walk through life. Only when she reaches the end of life's journey, and she is in heaven in the presence of Jesus, is all truth revealed.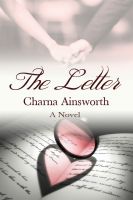 The Letter
Set in Mississippi during the 80's, Tiffany Crenshaw moves from California to Natchez. She meets Steven Cross and they fall deeply in love. When he moves away for college he leaves with a promise to always write. Over the years, through chance meetings and strange coincidences they rekindle their love. Even when it seems all hope is lost, Steven still sends beautiful love letters to Tiffany.
Charna Ainsworth's tag cloud