John Benteen
Biography
John Benteen was the pseudonym for Benjamin Leopold Haas born in Charlotte , North Carolina in 1926. In his entry for CONTEMPORARY AUTHORS, Ben told us he inherited his love of books from his German-born father, who would bid on hundreds of books at unclaimed freight auctions during the Depression. His imagination was also fired by the stories of the Civil War and Reconstruction told by his Grandmother, who had lived through both. "My father was a pioneer operator of motion picture theatres", Ben wrote. "So I had free access to every theatre in Charlotte and saw countless films growing up, hooked on the lore of our own South and the Old West." A family friend, a black man named Ike who lived in a cabin in the woods, took him hunting and taught him to love and respect the guns that were the tools of that trade. All of these influences – seeing the world like a story from a good book or movie, heartfelt tales of the Civil War and the West, a love of weapons – register strongly in Ben's own books. Dreaming about being a writer, 18-year-old Ben sold a story to a Western pulp magazine. He dropped out of college to support his family. He was self-educated. And then he was drafted, and sent to the Philippines. Ben served as a Sergeant in the U.S. Army from 1945 to 1946. Returning home, Ben went to work, married a Southern belle named Douglas Thornton Taylor from Raleigh in 1950, lived in Charlotte and in Sumter in South Carolina , and then made Raleigh his home in 1959. Ben and his wife had three sons, Joel, Michael and John. Ben held various jobs until 1961, when he was working for a steel company. He had submitted a manuscript to Beacon Books, and an offer for more came just as he was laid off at the steel company. He became a full-time writer for the rest of his life. Ben wrote every day, every night. "I tried to write 5000 words or more everyday, scrupulous in maintaining authenticity", Ben said. His son Joel later recalled, "My Mom learned to go to sleep to the sound of a typewriter".
Where to find John Benteen online
Series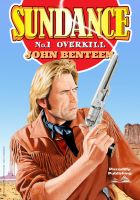 A Jim Sundance Western
by

John Benteen


&

Peter McCurtin
Sundance is your typical Benteen hero: tall, broad-shouldered, with a slim waist and a lean, powerful build. He has the complexion and features of a Cheyenne Indian, but his hair is a bright golden blond, a gift from his English father. Sundance received his name - his Indian name - after participating in the Sun Dance ritual. He is a man who has roamed and fought across the length and breadth of the U.S., moving between the worlds of the white man and the Indian.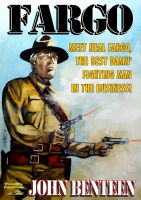 A Neal Fargo Adventure
by

John Benteen
Neal Fargo - adventurer, lover and fighter ... Fargo lives with a gun in his fist. Guns and killing are all he knows. And Fargo likes what he knows. Want to start a revolution? Want to stop one? Send for Fargo. Want to blow a bridge, stage a prison break, rob a bank? Fargo's your man.... Tall and weather beaten, his prematurely white hair kept close-cropped, he still wears much the same outfit he wore in the service: cavalry boots, campaign hat, jodhpurs, or khaki pants, comfortable shirt.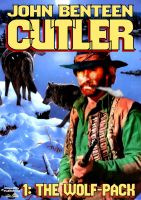 John Cutler - Western
by

H.V. Elkin


&

John Benteen
John Cutler trapped and killed rogue animals, For years, he'd been a Federal Marshal in Indian Territory before he married and retired, buying a ranch in Arizona. It was a rogue grizzly that changed his life. A big, snake headed monster with a silver blaze that was killing cattle, a lot on his range. He put out traps and got a hit, But before he found it, the big bear gnawed off the trapped paw and went on a berserk rage. While out hunting the grizzly, the animal showed up at his ranch and attacked his pregnant wife. Cutler rode in just in time to catch her dying breath about the bear. These are Cutler's adventures in seeking revenge.
Books
John Benteen's tag cloud