Richard Bard
Biography
Richard Bard draws on his own experiences as a former USAF pilot and cancer survivor to craft compelling characters who risk it all for love and loyalty. Born in Munich, Germany, to American parents, he joined the United States Air Force like his father. But he left the service when he was diagnosed with cancer and learned he had only months to live. He earned a management degree from the University of Notre Dame and ran three successful companies involving advanced security products used by US embassies and governments worldwide. Now a full-time writer, he lives in Redondo Beach, California, with his wife and remains in excellent health.
Where to find Richard Bard online
Videos
The Official Brainrush Trailer
Publishers Weekly heralded this first book in Richard Bard's Brainrush thriller series as "terrifically entertaining" and "inventive and compelling." It went on to earn The Wall Street Journal's #1 Action/Adventure slot in their Guide to Self-Published Big Sellers.
How I Became a Thriller Writer
Started as a young kid... :-)
Free eBook! BRAINRUSH - Wall Street Journal #1 Bestseller!
FREE Download. No strings. No Signups. Simply Download in ALL FORMATS - #1 Bestseller that Publishers Weekly called "A Terrifically Entertaining Thriller!" Kindle (All countries): http://getBook.at/BR1Link Smashwords: http://bit.ly/1tmQJoV
Series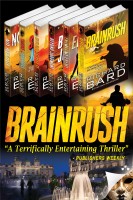 Brainrush
by

Richard Bard
Wall Street Journal #1 bestselling Action/Thriller that Publishers Weekly called "Terrifically Entertaining."
Books
Richard Bard's tag cloud