Mark London Williams
Mark Williams is a fiction writer, playwright, and journalist. He is the author of the LA Times Bestselling Danger Boy series for young adults. As a journalist, he's written for Variety, the Los Angeles Times, and The Los Angeles Business Journal, and is currently a columnist for Below the Line, covering Hollywood and its discontents. His plays have been produced in San Francisco, Los Angeles, and London, and he's written comic books, short stories, and video game scripts. He teaches workshops on creative writing, genre studies, and storytelling for the Walt Disney Company and other places. He lives in Southern California, raising a couple "danger boys" of his own.
Danger Boy series trailer
A trailer for the eBook re-release of the "Danger Boy" series, by Mark London Williams, for time-voyagers of all ages.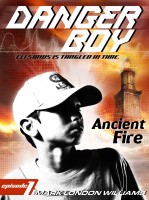 Danger Boy
by

Mark London Williams
A thrilling middle-grade series about 12-year-old time-traveler Eli Sands that mixes The X-Files with a dash of Discovery Channel and a good dose of solid action adventure.