Shadowmire Media
Publisher info
I had the world in the palm of my hand at age 27; I was marrying the woman of my dreams, finishing law school and becoming a attorney, and had good luck writing stories I loved and finding readers to read them. I'm now 31 and not quite so certain of anything anymore. I am divorced. No children, and I think I regret that. Hard to say. I have been honest and true and tried my best to be authentic, I practice law, but had my charity law firm torpedoed by cyber insecurity that as an advanced persistent threat haunts me to this day, and is the reason for the delay with the new books I am trying to keep secure, properly edit and prepare, and make ready for new readers and new markets and hope someone out there will connect with these new stories I wish to tell. In loss there is a kind of freedom, and in a way a serf has a thing a king dos not--his premium upon risk is very little--accordingly he may do anything, go anywhere, and nothing and no one to stop him, climb any mountain, risk any venture, gamble any hand... but at the same time so much the less to be there mattering, worrying, carrying. And the absence is profound.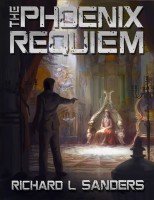 The Phoenix Requiem
by

Richard Sanders
Death. Destruction. Despair. These are the hallmarks of the Dread Fleet. It is an unstoppable force that, when summoned to do so, will scourge the galaxy in a Holy Reckoning. It is up to Queen Kalila Akira, Calvin Cross, and the others to stop it. Meanwhile a dark figure lurks in the shadows whose path must cross Calvin's, it is an intersection that could end in death.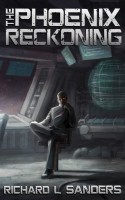 The Phoenix Reckoning
by

Richard Sanders
Blackmoth attempts to detonate an isotome weapon near Kalila's embattled fleet. Raidan threatens harm upon Capital World. Calvin leads his people into Forbidden Space. Rain and Calvin have begun an impractical romance, to Summers's dismay. Tristan demands what was promised. Shen must make a choice. The Dread Fleet's campaign of death is underway. No one is safe. The Final Reckoning has begun!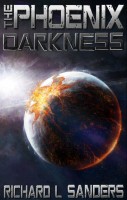 The Phoenix Darkness
by

Richard Sanders
On a dangerous spy mission, Calvin has been betrayed by an ally. Summers, Blackmoth, and Tristan race to recover the isotome weapons. Raidan has underhanded plans. Kalila and Caerwyn have drawn the entire Empire into brutal civil war. The Rotham seem poised to attack human worlds. And in the vast regions of Forbidden Space the Dread Fleet moves, charged with bringing to pass the Final Darkness.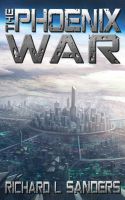 The Phoenix War
by

Richard Sanders
(4.00)
The threat of civil war looms over humanity. Summers races to find the isotome weapons, Nimoux is trapped, Shen awakens to a strange new life, and Calvin hunts for the true puppetmaster. Desperate to discover the deepest layer of the conspiracy before it's too late. And in the shadows, Blackmoth brews a storm of chaos, hellbent on subjecting the galaxy to the dark design of his One True God.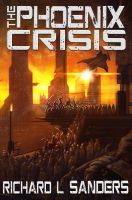 The Phoenix Crisis
by

Richard Sanders
(5.00)
The leaders of the Phoenix Conspiracy are poised to usher in The Hour of Ascension. And it is up to Calvin to expose the conspiracy before the Empire collapses in a firestorm of civil war. The Organization, the Akiras, CERKO, the Advent, the Phoenix Ring... it all comes down to this moment. And the question on everyone's mind is, can the Empire survive? Or will it be lost to the tempest.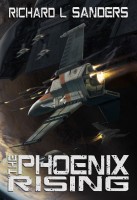 The Phoenix Rising
by

Richard Sanders
(4.86)
As the most serious threat ever facing the galaxy now looms over them, Calvin and his crew continue their mission to expose the dark conspiracy haunting the Empire. Now a fugitive on the run, Calvin has no choice but to work alongside Raidan's mysterious Organization. And form an alliance with a misfit band of fair-weather friends. Meanwhile ships are vanishing and murders are going unnoticed.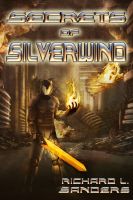 Secrets of Silverwind
by

Richard Sanders
In the scorched remains of a world ripped apart by magic and advanced technology, Caythis must discover the truth behind his own disappearance in order to right the world and atone for his one great mistake. It is a twisted path of deception and betrayal; one that forces him to realize... sometimes the darkest truths are best kept secret.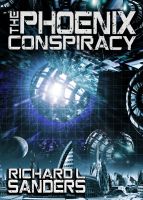 The Phoenix Conspiracy
by

Richard Sanders
(4.62)
Calvin, an intelligence operative, is sent to eliminate a dangerous traitor. But as he chases his prey across the stars, he realizes they are both pawns in a shadowy chess game that threatens humankind everywhere. If he is to uncover the conspiracy he must confront, and embrace, the darkest elements of the galaxy. And throw himself, his career, and everyone he loves into the line of fire.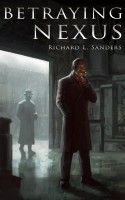 Betraying Nexus
by

Richard Sanders
(5.00)
Jason works for Nexus, a secret vigilante organization. He's a Mind Bender and can implant thoughts into the minds of others. He's both a prodigy and a rising star. But when he's forced to take down an old friend and learns Nexus's darkest secret, he must ask himself what he believes in. And if it's worth turning against the woman he loves.
Shadowmire Media's tag cloud